---

Are you a Kombucha lover too? This fermented tea is always one of those specialty drinks I like to splurge on for myself when at the grocery store. The bubbly taste, unique flavors & endless health benefits draw me in!
Kombucha is packed full of GOODNESS for your body: probiotics, strong antioxidants, helps your digestion, boosts your energy & immune system, can help you lose weight, wards off high blood pressure & heart disease, is said to prevent cancer, contains B vitamins, along with a handful of essential minerals & organic acids through vinegar ferments.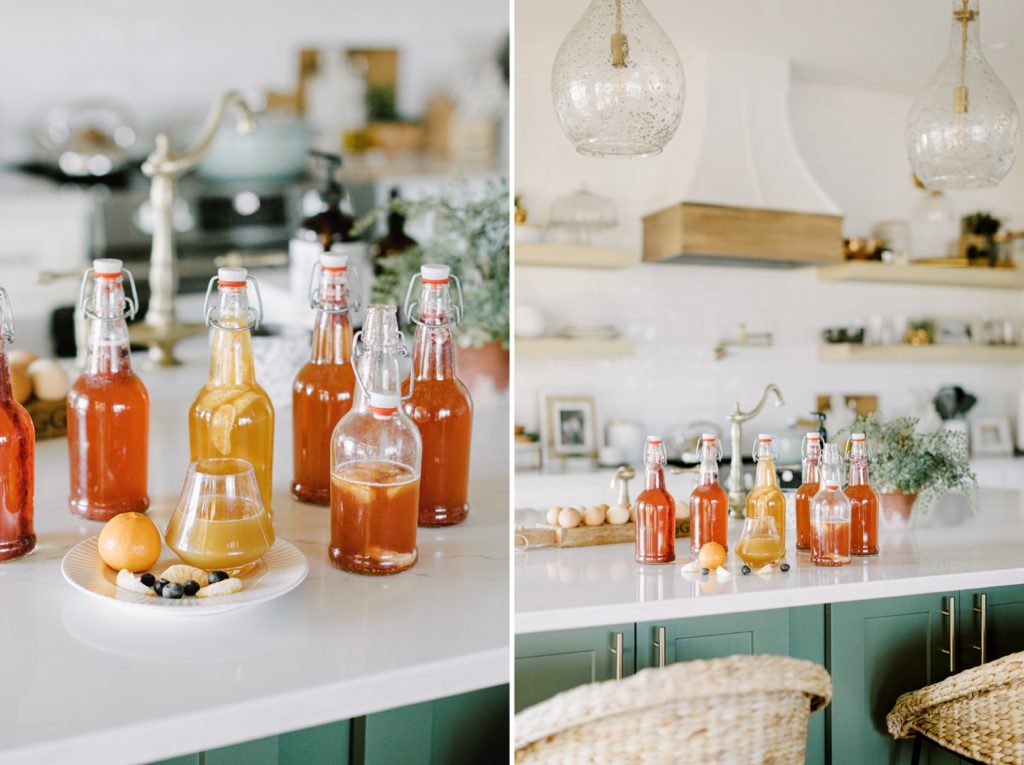 Over the past several years I've brewed my own at home on & off. It was a goal of mine to start a new batch this winter. My daughter, Hazel is also obsessed with Kombucha too & was overjoyed to get to help make some of her own custom fruit blends. Swipe right to see some video clips of us in the kitchen together.
Some exciting NEWS: Brock & I are currently in the process of creating a brand for "The Childs Family Farm". We couldn't be more excited! There are several #farmersmarket type of products we hope to sell as we enter Springtime. Fresh homegrown Kombucha Scobys are one of those items!
Until our new Farm Website is up & running, check out this post with a step by step Kombucha Making Article!
Here is a list of supplies needed to begin the brew process:
1 large gallon glass jar
Organic loose leaf black caffeinated tea
Organic white can sugar
1 small muslin square to cover jar + 1 rubber band
Filtered water
2 metal tea strainers for loose leaf tea
1 small stove top pot for steeping tea + blending sugar
Thermometer + PH test strips ( Both optional )

Kombucha Brewing:
1.) In a medium sized pot, bring 4 cups of filtered water to a boil, then turn off heat.

2.) Pour loose leaf team blend pouch ( 3 tbsp ) into cotton tea bag or metal tea strainer & add to pot. Caffeinated black tea tends to work best. Avoid using teas with flavors or oils as they can damage your scoby culture.

3.) Let tea steep for 5-7 minutes, then remove the tea bag/metal tea strainer.

4.) Add 1 cup of organic cain sugar to the pot & stir until dissolved. Do not use sugar alternatives such as coconut sugar, syrup or honey as these are too difficult for the scoby culture to break down.

5. ) Once the sugar had dissolved, pour your newly made sweet tea mixture into a 1 gallon glass or crock jar. Never use metal spoons or containers for the brewing process because it can kill the scoby culture.

6. ) Fill the brew jar with 8 cups of cold, filtered water. ( Jar should be 3/4 full now ).

7. ) Temperature should read between 68-68 degrees. If it is still too warm, 1/2 cups of cold water can be added. The scoby may burn & die if the tea is too warm. Allow to cool prior to adding scoby.

8. ) Add entire contents of kombucha scoby & tea starter to large glass brewing jar & gently stir with a non metal spoon.

9.) PH test strips may be used to test pH levels. It should read 4.5 of below.

10. ) Cover the jar with a cotton cloth & seal with rubber band.

11. ) Place brew jar in a warm place, out of direct sunlight, with plenty of air flow. I have mine on the shelf in an open butler's pantry. Ensure your jar is in a low traffic area without excessive dust.

12. ) By day 8-10, you will see that a new, cream-colored layer has grown in on the top of your brew. This is a new culture. While trying not to disturb the culture, gently slide a pipette down along the side of a jar & draw a sip of kombucha to taste test. A small amount could also be poured into a cup.

13. ) Taste every few days until your ideal kombucha flavor is reached. The longer the brew time, the more carbonated the kombucha will be. Too sweet? Let the brew process continue. PH test strips could also be used to test levels. PH range for finished kombucha is 2.5-3.5.

14. ) Now that your kombucha is done, it may be bottled. I like to add homemade fruit syrup to my bottles as flavoring. Simply choose a fruit & puree it in a blender or by heating it on the stove top. Use a funnel to pour into the top of the bottles.

15. ) When finished brewing, clean your brew jar & bottles with hot water & a little vinegar or soap. Never use antibacterial soap.
Below is a video of my daughter Hazel & I bottling kombucha together this winter.


Let me know if you might be interested in purchasing a kombucha Scoby culture & starter tea to begin your home brew process! Email me: [email protected]
---